Baumohl Hamburg LLC is a full-service law firm dedicated to client-oriented counsel with an exclusive focus on practice areas of family law. We provide representation to clients involved in a wide range of disputes, including high net divorce proceedings, child support, joint and sole child custody, spouse support, marital property division, pre-nuptial agreements, adoption, and domestic violence. Our family law experts have integrity and knowledge to advocate in your best interest in order to achieve the best possible solutions and court decisions.
Baumohl Hamburg divorce attorneys are respected and fearless advocates who will adroitly protect your rights and guide you through tough times with kindness and acceptance. With collective experience and cumulative knowledge of more than 75 years, our team provides high-quality family law and divorce advocacy in the state of Maryland. By obtaining our legal services, you will save precious time and avoid needless conflicts of interest. For inquiries or to book an initial consultation, reach out to us via our contact page or give us a call at (443) 940-2000. We serve clients in Hanover and the entire Baltimore and Annapolis area, including Anne Arundel County and Howard County.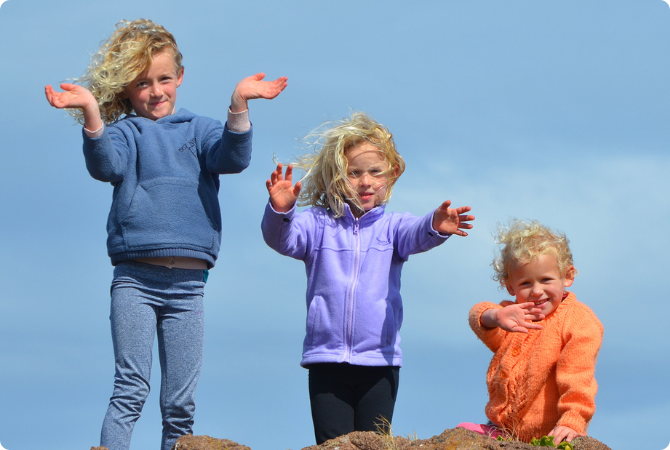 Our Legal Practice Areas
Family law is a broad area of law which relates to legal regulations of relationships within the family or partnerships, such as divorce, adoption, and domestic violence issues. Legal disputes involving family are usually very difficult, as family is important to us all. In these cases, the stress and uncertainty can be overwhelming for everyone in the family. Baumohl Hamburg team of attorneys understands how hard it may be to undergo such sensitive disputes, which is why we provide understanding and care to our clients along with expertise.
Divorce
Divorce, or marital dissolution, is the most common subset of family law, which is usually a sensitive matter for everyone involved. The expert team of Baumohl Hamburg divorce attorneys works closely with you to create a legal strategy customized to your unique needs and interests, while taking into consideration local, state, and federal laws. We will encourage and support you through every aspect of marriage ending, including high-net-worth divorce, absolute divorce, uncontested divorce, contested divorce, and mutual consent divorce.
Child Custody
According to the laws of the state of Maryland, if there are children in the family, child custody issues have to be resolved before the marriage is legally dissolved. Our child custody lawyers in Hanover can help you with all facets of child custody, such as legal custody, physical custody, sole custody, split (joint) custody, visitation rights, parenting plan, negotiations, court representation, gathering evidence, etc.
Child Support
Spouses with minor children have to resolve child support matters prior to becoming legally divorced. The exact amount of maintenance is determined based on Maryland Child Support Administration (CSA) Guidelines. Baumohl Hamburg LLC's proficient divorce attorneys will aggressively fight for your children's best interests within the state guidelines. Our goal is to ensure fair and favorable financial support for your children's care. We offer counseling for all matters of child support: negotiation, modification, enforcement, high-income families child support, arguing deviations, and document administration.
Marital Property Division
Marital property involves all assets that have been accumulated during the course of marriage. In Maryland, marital property division is subject to equitable dissolution, which can sometimes become a highly contested issue. This is particularly the case in high-net-worth divorces. If you are looking for the top advocates who will passionately defend your rights and best interests, choose Baumohl Hamburg law firm. We offer the finest competent counsel for property (real estate) distribution, business distribution, vehicle distribution, investment division, debt distribution, stocks and trusts division, retirement funds division, etc.
Alimony
Alimony, also known as spousal support or maintenance, is designed to provide financial support for the former partner in order to help them gain financial autonomy quicker. The exact amount of this monthly payment is based on several different factors, which is why you should obtain professional legal assistance. Divorce attorneys will ensure you receive proper alimony, which will suffice your needs. Our divorce lawyers have experience in high-net-worth divorce proceedings, rehabilitative alimony, temporary alimony, and indefinite alimony.
Domestic Violence – Protective orders And Peace Orders
Domestic violence refers to physical, sexual, emotional, and mental abuse in a domestic setting (cohabitation or marriage). Our lawyers understand that this practice area of law is very specific, which is why we take special care and understanding when working with vulnerable victims or wrongfully accused clients. We provide legal support in filing charges with the court, securing protective (restraining) orders, obtaining peace orders, modifying child custody decisions and visitation rights.
Adoption
If you are a resident of Hanover and are looking for an adoption lawyer, hire the law firm of Baumohl Hamburg LLC. Our team members are adoption specialists, approaching this major life changing event with utmost precision, diligence and empathy. Our adoption services involve public agency adoption, private agency adoption, independent adoption, domestic adoption, international adoption, stepparent, relative, and foster care adoption.
What Our Clients Are Saying
I had alimony case, and it was resolved 100% to my satisfaction.
High-Net-Worth Divorce Cases
Baumohl Hamburg LLC team is recognized for offering genuine and forceful advocacy to entrepreneurs, executives, high achievers, and partners/spouses of high-net-worth professionals. High-assets divorce involves over $1 million dollars' worth of marital property and wealth that will be divided among the spouses after the marriage has ended. The stakes are much higher in a high-net-worth divorce case than in a conventional divorce, hence, these cases are much more complicated and challenging. Here is how different aspects of divorce play out in high-income families:
Marital assets distribution – Marital assets include multiple real estate, exclusive vehicles, vacation properties, businesses, investments, stocks, valuable furnishings, art & antique collections, expensive jewelry, bank accounts, intellectual property, and other assets.
Alimony & child support – Divorce lawyers who are also skilled in finance and accounting are well-versed in obtaining optimal alimony and child support amounts for their clients.
Tax implications – High net worth divorces typically imply complicated tax issues, which can easily be resolved by hiring a lawyer who is well familiar with tax law.
Uncovering hidden assets – Our team collaborates with financial experts, business lawyers, forensic accountants, and tax advisors to uncover hidden assets and ensure a proper valuation.
To set up an initial consultation with one of our divorce attorneys in Hanover, fill out the form below (we usually respond within 24 hours) or give us a call at (443) 940-2000.
Please do not hesitate to contact us. We typically reply within 24 hours!
Maryland Divorce Changes as of October 1st, 2023
On October 1, 2023, in the state of Maryland, substantial changes to the divorce law have been introduced. Limited divorce has been revoked and no longer exists. As of October 1st, 2023, there is only one type of divorce (also known as 'absolute divorce'). However, major changes were also made to the legal reasons (grounds) for absolute divorce. Several legal reasons have been revoked, and there is no 'legal separation.'
The grounds for divorce in Maryland are:
Mutual consent – In this scenario, partners must sign a mutual agreement (marital settlement agreement) which outlines all the important details, like child support, alimony, child custody, property division, etc.
Irreconcilable differences – This legal reason means that one of the partners cannot remain married due to the inability to reach a mutual agreement on major issues.
6-month separation – You can also use a 6-month separation as a legal reason for filing for a divorce.
For additional information on the changes, visit the official Maryland Courts website or talk to one of our divorce lawyers.
Meet Our Family Law Attorneys In Hanover
Baumohl Hamburg's exclusive area of expertise is high assets divorce and family law. Spanning over 40 years, we have established a reputation of powerful, first-rate litigators with strong community engagement. Find out more about our legal powers by reading about our attorneys:
Why Choose Us as Your Divorce Attorneys in Hanover?
Since 1979, Baumohl Hamburg law firm has been offering relentless and results-driven legal counsel. Our divorce lawyers and family law experts deliver quick and effective strategies, while alleviating client's uncertainty, stress, and worry.
Over 75 years of combined legal experience
Sophisticated, powerful representation
Highly individualized approach
Professional accolades: Harry A. Baumohl rated Super Lawyer in 2007 and 2008
Easily approachable and responsive
Members of Maryland State Bar Association, American Bar Association, Baltimore County Bar Association, and Baltimore Collaborative Divorce Professionals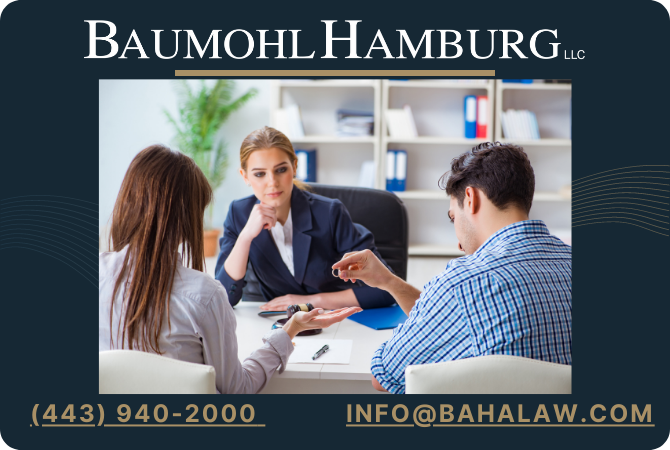 Baumohl Hamburg LLC lawyers are fully aware that the divorce and family law disputes entail sensitive and complex matters that might have a permanent impact on you, your children, and your family, including your financial stability. Certified by Maryland State Bar Association, American Bar Association, and Baltimore County Bar Association, we are available for any spouse or parent who requires a thoughtful representation and fearless litigation. For the residents of Hanover and the entire Anne Arundel County and Howard County area, we facilitate mediation services, negotiation, document preparation, child support, high-conflict cases, high-asset divorce proceedings, marital property division, alimony issues, etc. Our company's mission is to obtain beneficial court rulings and a hopeful future for you and your family.
Frequently Asked Questions
What documents should I bring to a first appointment with a divorce lawyer?
Here are some helpful guidelines regarding preparing yourself for the first meeting with the Hanover divorce attorney:
Personal information – Since your lawyer will need to acquire certain essential information regarding your family, make sure you bring with you information on family member's personal identification details (first name, last name, home address, contact number, date of birth, social security number).
Divorce papers – If divorce papers have been served to you by your spouse, bring them to your first meeting with the divorce representative. Be aware of the deadlines when you have been served the papers, as there is a legal deadline for filing your answer. Your attorney will advise you of all the necessary steps to be taken.
Assets Information – Collect information and documents related to family finances and assets, such as bank accounts, retirement funds, stocks, bonds, businesses, debts, investments, mortgage details, deeds, previous year's tax return (with attachments), etc.
Additional information – It is essential to bring any other information and documents already filed that are vital for your marriage and children. For instance, make sure you bring a domestic agreement (pre-nuptial or post-nuptial) if you have signed one, text message history, parenting course certificate, any documentation supporting abuse in the family, petitions, journals, and similar important documentation.
How do I file for divorce in Maryland? What is the first step?
If you have settled on all aspects of divorce with your partner (such as child support, property division, child custody) and if you are the party who will initiate the process of divorce, you will be required to complete a divorce complaint form. If you would like to file for a divorce, fill out Complaint for Absolute Divorce (Form CC-DR-020). If your spouse has filed the papers, and you would like to ask for relief different from what has been requested by your spouse, complete form CC-DR-094 (Counter-Claim for Absolute Divorce).
In addition, you will need to complete other forms, such as the Civil Domestic Case Information Report, Parenting Plan, Marital Settlement Agreement, etc. The documentation will be filed with the clerk of the Circuit Court of your county or the county where your spouse lives.
What factors does the Maryland court look into when dealing with child custody cases?
In the state of Maryland, the court determines the custody based on the best interests of the child. Many factors are taken into account, and these include (for each parent): fitness, health, mental state, character, age, ability and willingness to maintain family relationships, preference of child, financial status, location, etc.