The law office of Baumohl Hamburg LLC has a long-standing and successful history of representing clients in divorce cases in the Hunt Valley area. We are Maryland's boutique-style family law firm committed to tenacious, but compassionate legal advocacy in all practice areas of family law. Our reputable, adept lawyers provide fierce counsel and litigation to clients who are involved in complex legal procedures, such as high-net worth divorce, child support, child custody (sole, joint), alimony (spousal support), marital property distribution, adoption, pre-nuptial agreements, and domestic violence issues. We are renowned in the community for offering relentless and fearless legal representation in order to defend your rights and obtain favorable court decisions in the most sensitive practice area of law.
We, at Baumohl Hamburg, are zealous and adept legal practitioners who are fully committed to defending your best interests. Our adept divorce attorneys will lead you through delicate and complex family law proceedings with empathy, understanding, and kindness. With more than 75 years of combined experience in legal practice, our divorce lawyers are genuinely dedicated to accomplishing positive outcomes, while relieving clients of any unnecessary conflicts, doubts, stress, and worries. If you would like to schedule an initial consultation, or if you have any questions, feel free to get in touch with us via our contact page or give us a call at (443) 940-2000. We provide services for residents of Hunt Valley, Baltimore County, and the surrounding areas.
Powerful Advocacy in High-Net Divorce Cases in Hunt Valley
High-net worth divorce cases are considerably more complex than conventional divorces. Accumulated marital property is typically worth more than $1 million dollars, which means that a substantial amount of money and assets are at stake. Marital property that has to be distributed usually consists of real estate properties, businesses, vehicles, private practices, investment funds, retirement funds, debts, etc. Furthermore, these types of cases typically involve a colossal amount of documentation and require to be handled by highly qualified and aggressive divorce lawyers who will passionately fight for your rights. If you are a high-profile individual, or you are married to one, and need legal representation in your high-net worth divorce in Hunt Valley, turn to Baumohl Hamburg. We are proficient and forceful in defending your rights, with a proven track record of success in cases involving high stakes.
Our divorce attorneys will leverage partnerships with financial experts, business valuation specialists, and other professionals to obtain a favorable outcome in such a significant dispute. We work diligently on evaluating the accurate worth of marital property, while successfully identifying hidden assets. We are committed to ensuring you are not deprived of any property that rightfully belongs to you. Get in touch with us today to enjoy the benefits and perks of having superior legal representation.
Please do not hesitate to contact us. We typically reply within 24 hours!
Family Law Practice Areas
Family law stretches across a wide range of legal regulations relating to family and partnerships. Being involved in these types of cases is never easy since any disputes involving family are generally very difficult and emotionally charged situations. They can have a huge lasting impact on the lives of parties who are part of these proceedings. Furthermore, the family dynamics changes, which can be quite overwhelming and stressful for both the clients and their loved ones. Baumohl Hamburg divorce lawyers understand the significance and importance of these types of issues, which is why we offer genuinely sympathetic and caring counsel and litigation along with adroitness. Below is the list of family law practice areas we focus on.
Divorce
Divorce, or marriage dissolution, is among the most common family law practice areas. The dedicated Hunt Valley divorce attorneys at Baumohl Hamburg can assist you with all aspects of your divorce, such as filing petitions, negotiation, mediation, court representation, as well as modifications after the marriage has been ended formally. Our powerful strategies are aimed at fulfilling your needs and facilitating easier transition into the future. We are committed to supporting you in any type of divorce, including high-net worth cases and absolute divorce, on the grounds of mutual consent, irreconcilable differences, and a 6-month separation period.
Child Support
When it comes to divorce cases involving minor children, in the state of Maryland, spouses are obligated to agree on all relevant aspects of child support, before becoming formally divorced. The court requires that both parents provide for the well-being of their children, no matter what their relationship status is. Child support is financial assistance which is usually paid by the noncustodial parent to the other spouse, in order to maintain the same living standards for the children. The precise sum is decided either based on parenting plans, domestic agreements, Maryland Child Support Administration (CSA) Guidelines, or court ordered after a trial. If you need a proficient child support attorney, who will aggressively fight for your child's wellbeing, turn to Baumohl Hamburg for expert advocacy in matters involving child support, modifications of child support, and child support in high-profile cases.
Child Custody
According to the laws in Maryland, in divorces of families with children, child custody matters have to be resolved before the marriage is legally ended. Legal proceedings involving children can be exceptionally delicate and sensitive, which is why our skillful child custody lawyers provide utmost care and compassion when handling these cases. Baumohl Hamburg law firm provides versatile services encouraging high-quality advocacy for the child's wellbeing: legal custody, physical custody, sole custody, split (joint) custody, high-asset divorce child custody matters, visitation rights, fierce court litigation, competent negotiation, thorough evidence collection, expert mediation, and modification services. We also offer professional help with parenting plan creation, which contains important details on legal and physical custody, visitation rights details, and so on.
Alimony / Spousal Support
Alimony (spousal support, spousal maintenance) is another important section of family law which deals with regulations of financial support for the other spouse during or after the divorce process. It serves to help the other partner gain financial independency faster. Since the amount of alimony depends on various factors, it is strongly recommended to hire professional alimony attorneys, who will make sure you get the amount of monthly maintenance you deserve and which will cover your needs. Baumohl Hamburg divorce attorneys specialize in alimony in high-assets divorce cases, permanent alimony, rehabilitative alimony, temporary alimony, and indefinite spousal support.
Marital Property Division
The distribution of marital property can often become a highly contested dispute between the spouses, since marital property covers all assets acquired during the marriage, and Maryland follows the regulations of equitable distribution. This is especially the case in divorces of high profile couples, where the worth of marital property is over $1 million dollars. If you are seeking a fierce marital property distribution attorney who will strongly defend your best interests and ensure you obtain the best possible outcome, reach out to Baumohl Hamburg. We are extensively experienced in assets analysis, hidden assets tracking, real estate distribution, investment (stock) division, businesses division, vehicles distribution, retirement funds division, debts division, trusts splitting, etc.
Domestic Violence Cases – Protective Orders & Peace Orders
If you, or someone you know, suffers domestic abuse (emotional, physical, sexual, psychological, financial), the first thing you should do is contact local authorities and domestic violence attorney. Our professional legal counsel involves assistance with filing charges, filing for protective orders, restraining orders, and peace orders, as well as child custody modification and visitation rights changes. We approach each case with discretion, unbiased counsel, and empathy, with one goal in mind – to secure a safe and promising future for yourself and your children.
Domestic Agreements
Domestic agreement is a type of legal contract that serves to protect your rights. It outlines the agreements reached between the spouses regarding terms of the relationship, property division, and so on. Baumohl Hamburg lawyers are highly skilled in drafting, creating, and negotiating prenuptial agreements, separation agreements, and post-nuptial agreements.
Appeals & Modifications To Court's Rulings
Appellate Law is another specialty area for Baumohl Hamburg lawyers, who offer counsel on court appeals and modifications (court orders, documents, or decrees). We can successfully assist with challenging or changing judge's decisions. By thorough analysis of relevant documentation, we will be able to pinpoint possible errors and engage relevant changes to obtain a beneficial decision for you.
Adoption
If you are seeking to adopt a child, it is of utmost importance to hire an attorney who can guide through the complex myriad of legal proceedings and eventually acquire a positive result. If you need help with the adoption process, we will gladly assist you with all the legal practices and ensure the adoption process is straightforward and worry free for everyone involved.
What Our Clients Are Saying About Us
Mike Hamburg and Jodie supported me through a two year custody and divorce battle with my narcissistic ex while living across the country. We didn't actually physically meet until we were 6 months into the case. Incredible. Mike is knowledgeable and Jodie is intuitive. They are a strong team who work together seamlessly. They helped me win my daughters and my freedom after two long days in court and two long years preparing. I have stayed in touch with Jodie and Mike for over ten years now, which is a testament to them. They really got to know me. They took time to handle my case with legal grit while holding my hand at the same time. I value them and what they were able to do for me. I highly recommend the Baumohl Hamburg Law Firm to lead you through divorce and custody battles.
Why Choose Us to Represent You In Family Law & Divorce Cases?
As a highly experienced family law firm, the attorneys at Baumohl Hamburg LLC take care of all aspects of legal proceedings, including consultation, drafting documents, trial representation, negotiation and closings. Our mission is to offer strong legal advocacy and ensure every client receives empathetic and caring representation in highly sensitive cases of family law. Thanks to our long-standing practice and various legal skills, your case will be taken care of with utmost commitment to reach your goals. If you or someone you know needs a compassionate and passionate family law attorney, reach out to us. We are here to help you move forward with ease and confidence.
75+ years of combined law experience
Small family operated law firm with highly personalized approach
Powerful litigation in high net divorce cases
Online platform for clients for ease of access
Relentless and powerful legal advocacy
Proud members of Maryland State Bar Association, American Bar Association, Baltimore Collaborative Divorce Professionals, and Baltimore County Bar Association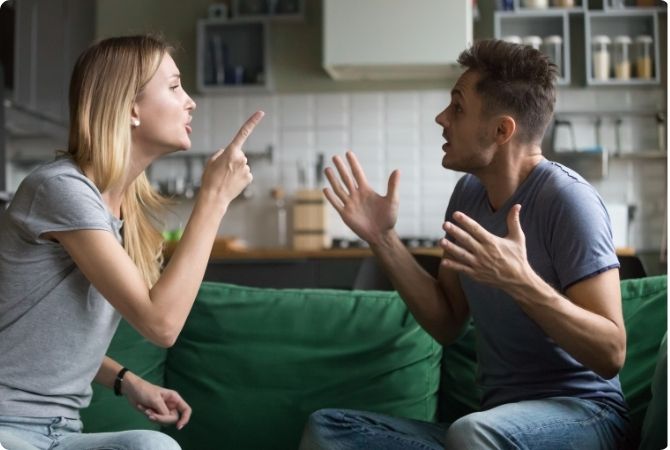 If are concerned, worried, or scared about a family law issue you are facing, it is time to turn to the best legal team in the area – Baumohl Hamburg. With decades of efficient legal practice, and numerous satisfied clientele in Hunt Valley MD, we have built a strong reputation of integrity, honesty, and expertise within the industry and the community. We are a family-owned business, and unlike other large law firms that handle multiple practice areas, we are exclusively dedicated to family law, divorce issues, and civil matters. Our team members have the necessary knowledge and experience to obtain an amicable resolution for your case and most importantly, peace of mind. To discover how we can protect your rights or to set up a consultation, call us at (443) 940-2000.
Got Questions On Divorce? We've Got Answers!
1.      How long do I have to wait before I'm officially divorced in Maryland?
Since every divorce case is unique on its own, the timeline will be of different length for every client. Things that will determine how long you have to wait before your marriage is legally ended include mainly the grounds for divorce and the disputes regarding important aspects, such as child support, child custody, marital property division, and financial matters.
If your spouse and you have no disputes and manage to agree on all the relevant details, and if you decide to file for divorce based on a 6-month separation period, it means that you will have to wait 6 months before you can file the papers with the court. However, if you cannot reach the settlement, then the proceedings will take a lot longer than 6 months.
2.      How much does it cost to hire a divorce attorney?
The exact divorce attorney fee depends on the level of expertise and the distinct complexity of your case. When choosing the lawyer who will represent you in one of the most important cases of your life, the first priority should be value for money. It is advisable to hire highly experienced divorce lawyers, as they will not only expedite the process, but also make sure you get what is rightfully yours. When it comes to deciding on who to hire, the rates charged play an important factor, too, so make sure you discuss it during your initial consultation. It will give you an insight into what the final charges might look like.
Baumohl Hamburg divorce attorney's fees are based on hourly rates. What this means is that you will pay for the time the lawyer spent on your case. Hourly rates vary from the paralegal's rate to senior family law attorney's rate.
3.      What are the new changes in divorce law in Maryland?
As of October 1st, 2023, the state of Maryland is known as 'no fault' divorce state, since it has introduced groundbreaking changes into divorce law. The new law completely eliminates 'limited divorce' and 'at-fault' grounds for divorce. In addition, legal grounds for divorce have been modified to simplify and facilitate legal proceedings. Current grounds for divorce in the state of Maryland include irreconcilable differences, mutual consent, and a 6-month separation period.
Establishment of irreconcilable differences as one of the legal grounds for divorce means that the court now recognizes that the marriage can end without any spouse being at fault.
6-month separation period as grounds for divorce means that the spouses have 'pursued separate lives', and they don't necessarily have to live apart during this period. This way, some financial burden has been removed from the spouses, which is helpful especially for the low-income individuals.
If you need more information on changes divorce law in the state of Maryland, watch this video from Maryland Court Help Center.
4.      Do I get an equal share of marital property after I get divorced in Maryland?
Maryland is known as an equitable state, meaning all assets accumulated during the course of marriage (real estate, private practices, vehicles, trusts and funds) will be distributed equitably, which is not the same as equally. Marital property will be divided in a way that seems fair to both spouses. In disputes involving marital property, a good divorce attorney might help negotiate the terms of distribution outside the courtroom, and eventually achieve an amicable resolution for you without having to go to trial. Legal counsel is especially advised in cases involving high-net worth couples with substantial assets that are up for division.