Baumohl Hamburg LLC is a law office offering legal counsel to residents of Lutherville-Timonium and Baltimore County. We provide comprehensive services for various disputes of family law, such as divorce (including high net worth divorce), physical and legal child custody, child support, spouse support, marital property distribution, adoption, modifications, negotiation, and appeals. No matter what type of counsel you need, you can trust us to passionately fight for your rights and your family's well-being. Our power lies in our result-oriented and compassionate advocacy, and our main goal is to ensure you reach your objectives.
Baumohl Hamburg is a boutique law firm committed to helping our clients navigate complex legal system during challenging times of family law disputes. Our family law and divorce lawyers deliver deep knowledge, experience, and caring personal service. We have the skills, passion, and determination to help you achieve a favorable resolution. Call us at (443) 940-2000 or contact us online to discuss your case or to find out more about our firm. We are here to give you a new perspective and a smooth sail to your new future!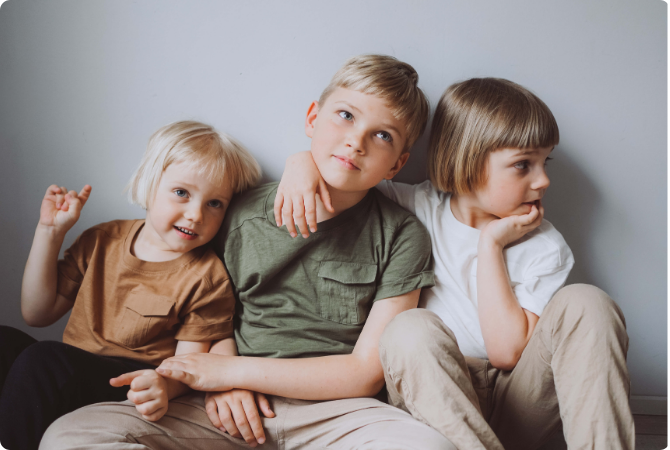 Our Family Law Practice Areas: Legal Services From Accomplished Family Law Experts In Lutherville-Timonium
Our rich background and decades of legal counsel and court representation enable us to manage all areas of family law, including high-conflict and high-net-worth cases. We are proficient and highly experienced in practicing Maryland's family law, which enables us to firmly go after litigated results, marital agreements, appeals and modifications. Our areas of expertise involve all of the following matters:
Divorce
Getting divorced is emotionally charged and complex experience for all family members. Knowing what lies ahead may facilitate stress and offer feelings of security during these turbulent times. This is why you should turn to an experienced divorce attorney in Lutherville-Timonium, who will lead you through intricate proceedings of divorce in Maryland. The Law Office of Baumohl Hamburg offers legal counseling for all aspects of marital dissolution proceedings, including high-net-worth divorce, mutual consent, uncontested, and contested divorce.
Child Support
In Maryland, in every divorce case involving a minor child, child support must be resolved and agreed upon before the marriage is legally dissolved. Usually, a noncustodial parent pays child support to a custodial parent in the amount determined by the Maryland Child Support Guidelines. Since the state of Maryland has very specific laws on child support, you want to make sure you get skillful and effective legal counsel which will get you the outcome you prefer. With fair and appropriate financial assistance, your children will be better cared for. Baumohl Hamburg divorce lawyers will give you a voice in the battle for fair child maintenance, and offer counselling for child support, modifications, and child support.
Child Custody
Child custody and parental visitation disputes must be addressed before the divorce is officially granted. These are very sensitive and critical matters of family law litigation that have an important effect on your children and you. Custody and visitation issues require knowledgeable, responsive, and empathetic litigation that Baumohl Hamburg law office provides. Our attorneys have a proven track record of tackling complex and high-conflict custody and visitation matters. Our services include legal counsel for high-income families, joint custody arrangements, sole custody, split custody, visitation plans, supervised visitation, parent relocation petitions, and parenting plans.
Alimony / Spousal Support
Alimony, also known as spousal support or spousal maintenance, is financial assistance paid from one partner to the other, as a way to contribute to acquiring financial independence faster. Even so, the exact amount of alimony can vary depending on various elements and may change over time as a result of changes in circumstances. To protect your rights, you should seek qualified legal help. Our attorneys can help you secure fair and adequate alimony, so you can enjoy beneficial financial status after your marriage has been divorced. Family law experts at Baumohl Hamburg cover all aspects regarding alimony: temporary (pendente lite) alimony, rehabilitative alimony, indefinite alimony, and alimony in high-stakes divorce cases.
 Marital Property Division
According to Maryland law, all assets and earnings accumulated during the marriage are considered marital property, which is subject to equitable (fair) division between partners. Often times, the distribution of marital property can become a very complicated and contentious issue, with strong emotions involved, especially in high-net-worth divorce cases. Divorce attorneys at Baumohl Hamburg excel at resolving complex marital property division disputes. We will ensure your interests are safeguarded in all matters of assets division including real estate distribution, investment division, businesses (professional practice) distribution, debt distribution, retirement funds division, stocks and trusts division, etc.
Domestic Violence – Protective Orders & Peace Orders
Domestic violence is a very serious issue that requires immediate attention. If you (or someone you know) are a victim of domestic abuse (emotional, physical, sexual, mental), contact authorities promptly. For a strategic legal plan on keeping yourself and your family safe, you can rely on us. We will fiercely and sympathetically advocate for you and help you reclaim your life and safe environment. Our family lawyers will guide you along the path to recovery by providing legal help with filing petition for protection from domestic violence, protective orders (restraining orders), peace orders, and adjusting child custody and visitation agreements.
Appeals & Modifications
Baumohl Hamburg's team can help you at the appellate level of family law practice. The appellate process is time-sensitive and deadline-oriented, which is why we will ensure you are fully aware of your appellate rights and what your options are. We provide legal services such as appealing to court's rulings or modifying court's decisions (court orders, documents, decrees).
Adoption
We understand that adoption can be very sensitive, emotional and overwhelming. However, the right legal counselor can provide a more pleasant experience and allow you to focus on welcoming a new family member. At the same time, we take care of the intricacies of the legal aspects. Our attorneys are well versed in all kinds of adoption cases, such as public agency adoption, private agency adoption, independent adoption, domestic adoption, international adoption, stepparent, relative, and foster care adoption.
Domestic Agreements
Domestic agreements are prenuptial agreements, separation agreements, and post-nuptial agreements. Family law attorneys at Baumohl Hamburg are highly competent in creating and designing legal contracts that will safeguard you against potential issues that may arise in the future.
I had alimony case, and it was resolved 100% to my satisfaction.
Offering Expert Legal Counsel For High Net Worth Divorce Cases In Lutherville-Timonium
High-net worth divorces typically involve many disputes that do not occur in average divorce proceedings. High asset divorce cases are considered to involve over $1 million in marital assets and property which is to be divided after the marriage dissolution. Marital property (assets accumulated by both spouses during the course of marriage) includes real estate, businesses, trusts, retirement funds, investments, stocks, debt, assets, vehicles and personal property.
If you are a high earning individual facing divorce, it would be best to hire a competent and powerful divorce attorney who will provide reliable representation and strong protection of your rights, interests, and future financial security. The law firm of Baumohl Hamburg prides itself on providing honest and aggressive advocacy in high-asset divorce cases. Contact our divorce attorneys by submitting an online contact form or calling us at (443) 940-2000. We serve all of Baltimore County.
Please do not hesitate to contact us. We typically reply within 24 hours!
What are the Grounds for Divorce in Maryland?
As of October 1, 2023, Maryland divorce law has changed significantly. The limited divorce section of divorce law has been revoked. What this means is that limited divorces are no longer granted as of 10/01/2023 in the state of Maryland. Absolute divorce remains the only type of divorce. However, the grounds for divorce have changed substantially, too. Some of the legal grounds have been revoked, and currently, the main grounds for getting a divorce are:
Irreconcilable differences – marriage cannot be continued due to differences between spouses that cannot be resolved.
Mutual consent – partners sign an agreement (marital settlement agreement) outlining details about child support, alimony, child custody, property division, etc.
6-month separation – 6 months of uninterrupted separation before filing a complaint for divorce.
Legal incapacity – one partner is permanently, legally not able to make decisions on their own.
For more information, check out Maryland Courts website or speak to one of our divorce attorneys.
Meet Our Family Attorneys in Lutherville-Timonium
We are a compassionate team of family law and divorce attorneys near you in Lutherville-Timonium, here to take good care of you and your family. You do not have to undergo this difficult experience on your own. You can count on our experts to provide a powerful strategy designed to obtain favorable ruling and a sense of serenity.
Leading the Way in Family Law & Divorce Cases in Lutherville-Timonium
As a boutique-style small family law firm, Baumohl Hamburg LLC manages all aspects of litigation, from consultation to trials and closings. We provide Lutherville-Timonium residents with powerful legal counsel and ensure every client gets the attention and care they need. We take pride in offering sympathetic and understanding legal assistance in sensitive cases of family law. If you or someone close to you is facing a family law dispute or divorce, do not hesitate to get in touch with us. With our rich and successful background and ample resources, you will have the opportunity to face your legal issues with confidence.
75+ years of collective law practice
Boutique-style law firm
Easily accessible and highly responsive
High net divorce case expertise
Secure online platform for clients
Exceptional track record of success
Proud members of Maryland State Bar Association, American Bar Association, Baltimore Collaborative Divorce Professionals, and Baltimore County Bar Association
Baumohl Hamburg attorneys are here to facilitate the entire divorce process, from filing to court and mediation to negotiating important matters like child custody, alimony, property distribution, and child support. Our goal is to secure a favorable court decision and a bright and promising future for you and your family. Do not hesitate to learn more about our legal strategies. You can reach us via our contact form or by calling (443) 940-2000 today!.
Frequently Asked Questions
What kinds of documents should I bring to a first meeting with a divorce lawyer if I am facing a marital property dispute?
Apart from divorce papers (if you have been served) and personal identification details from immediate family, you should collect and bring information and documents that your divorce lawyer will need in regard to your financial situation, assets, personal business, investments, etc. The paperwork should include:
Bank, investment, retirement fund statements / information
Mortgage/deeds statements or copies
Domestic agreements (prenuptial, postnuptial, separation)
Information on personal property up for distribution
Tax returns with attachments
Information on debt (credit card or auto loans)
Details on assets, debits, and credits to be divided
Particulars on private business.
How does divorce impact my credit score?
Although divorce does not affect your credit report directly, it can be financially stressful, as you are transitioning from a two-income household to a single-income household. You will most likely have increased expenses due to splitting joint accounts, which may affect your credit history. To protect your credit, if paying off and closing existing accounts is not possible, try checking your credit score often to ensure no unpleasant surprises.
How long does it take to get divorced in Lutherville-Timonium?
The length of divorce proceedings is different for everyone, as each case is unique. How quickly you will get divorced will be conditioned by various elements, like the grounds for divorce, financial intricacies, marital property disputes, and other relevant issues that have to be resolved prior to becoming legally divorced. In the state of Maryland, getting a divorce can be a lengthy process if you do not have legal grounds or if your partner and you can not agree on the important aspects. Furthermore, if you choose 6-month separation period as the grounds for divorce, that means that you have to wait for 6 months even before you file the papers with the court.