Divorce can be quite difficult and overwhelming, both legally and emotionally, which is why navigating the labyrinth of legal procedures should be entrusted to competent divorce attorneys. Baumohl Hamburg provides formidable but compassionate and personalized legal representation to individuals and families facing divorce and various other family law issues in Baltimore. We efficiently handle all aspects of divorce cases, including alimony, property division, child custody, child support, marital settlement agreements, appeals, and domestic violence.
Baumohl Hamburg is a boutique Baltimore family law firm with 75 years of combined experience practicing Maryland divorce laws. Our highly skilled divorce lawyers have a deep understanding of the local court system, judges, prosecutors, and legal precedents pertinent to your case and are here to protect your rights and fight for your interests. Ending a marriage is rarely a smooth or content experience, however, having a dedicated and tenacious advocate will ensure everything runs as quickly and as effortlessly as possible.
Contact our divorce lawyer in Baltimore at (443) 940-2000 for a consultation and expert legal guidance. We serve clients in Baltimore City and the entire Baltimore County.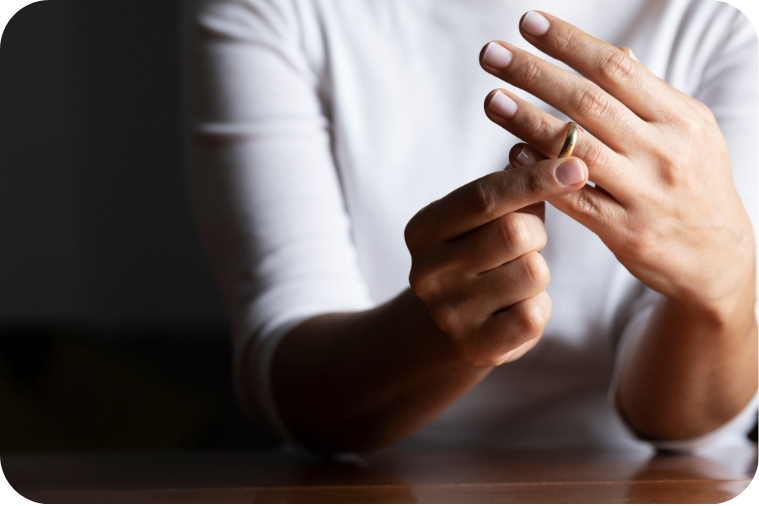 Comprehensive Divorce Representation in Baltimore
Baumohl Hamburg, the top family law firm, provides all-encompassing divorce services custom-tailored to specific clients' needs. Utilizing a substantial understanding of Maryland divorce laws and regulations, our skilled lawyers offer empathetic guidance and tactical defense for smoother navigation of the intricacies of the divorce process and help clients accomplish favorable outcomes in various sensitive matters of divorce, such as child custody, financial settlements, and domestic violence.
Divorce
At Baumohl Hamburg we know that every divorce is different; therefore, we work closely with you to create a personalized approach customized to your specific needs and aspirations while taking into account Maryland laws. We are committed to getting the best outcome for you with absolute discretion and dedication. Our track record of success has helped us become Maryland's leading divorce attorneys.
Alimony & Spousal Support
Defining alimony or spousal support can be a disputable issue in divorce cases, and our state has its guidelines that impact the determination of spousal support. Our lawyers have considerable practice in negotiating and litigating alimony issues aligning with local regulations. We attentively investigate your financial situation, marriage duration, and other relevant elements while promoting fair and reasonable support arrangements complying with Maryland's spousal support regulations. Baumohl Hamburg aggressively protects your interests, whether you are pursuing alimony or fighting against an unfair dispute.
Child Custody & Visitation Rights
We are highly versed and efficient in local Maryland court guidelines and considerations for determining child custody and visitation rights. We work diligently to protect your children's well-being, as well as safeguarding your parental rights, to help you reach a result that meets your family's specific needs.
Child Support
If you want to ensure your child is properly taken care of and your share is properly distributed, contact our child support lawyer before the legal process begins. Our proficient family law experts will guide you through the Maryland Child Support Recommendations and help reach an agreement that is in the children's best interest and yours, within the proposed guidelines. We can also successfully assist with child support modifications, arguing deviations, order enforcement, and other related matters.
Marital Property
Baumohl Hamburg Law Firm specializes in marital property division and fiercely fights for fair and equitable assets and debts distribution during divorce court cases in Baltimore City and entire Baltimore County.
Agreements
Another area of our expertise is drafting negotiating agreements. Our proficient lawyers assist in creating thorough and legally binding contracts covering numerous aspects of relationships, such as prenuptial agreements, separation agreements, and postnuptial agreements.
Family Law Appeals
Baumohl Hamburg LLC has a proven track record in helping clients overturn unfavorable court decisions regarding family law matters like divorce, child custody, or spousal support. Over the years, we have successfully represented clients in various appeals, from appealing to trial court decisions to defending favorable verdicts.
Domestic Violence
Domestic violence refers to abuse in a domestic setting, such as cohabiting or marriage. Acknowledging how serious domestic violence is, our dedicated lawyers offer attentive legal support and assistance in obtaining orders of protection for victims. We compassionately help the victims navigate the legal system by assisting in obtaining restraining orders, filing charges, and securing their and their family's safety.
Baltimore Divorce Attorney Fees
Experienced family law or litigation attorney fees are determined based on the attorney and the specific situation of the case. Baumohl Hamburg divorce and separation lawyers have an hourly rate, which varies and is formed based on the attorney's reputation and case complexity, among other things. Hourly rates span from paralegals to senior family law attorneys' time.
Fee options should be discussed in advance to make sure you fully comprehend the charges and the extent of legal counsel. Typically, the fees and other major elements of your case are explored in your initial consultation. Contact us to discuss your needs today.
What Sets Baumohl Hamburg from Other Baltimore Divorce Lawyers?
Our divorce and family lawyers are more than just experts in their field. We're passionate about what we do and truly care about the people we represent. We understand that you're going through a tough time, and we're here to help. You're not just another case to us – you're a person with a story, hopes, and concerns. We're not just driven by legal expertise but by a desire to make a positive difference in your life. We're always here for you, ready to listen, advise, and act.
75+ years of combined experience
Boutique family law firm
100% client-centered approach
Solid reputation within the Baltimore community
Acclaimed track record
High net worth divorces expertise
Skilled negotiators
Highly personalized approach
Absolute discretion
Transparent fees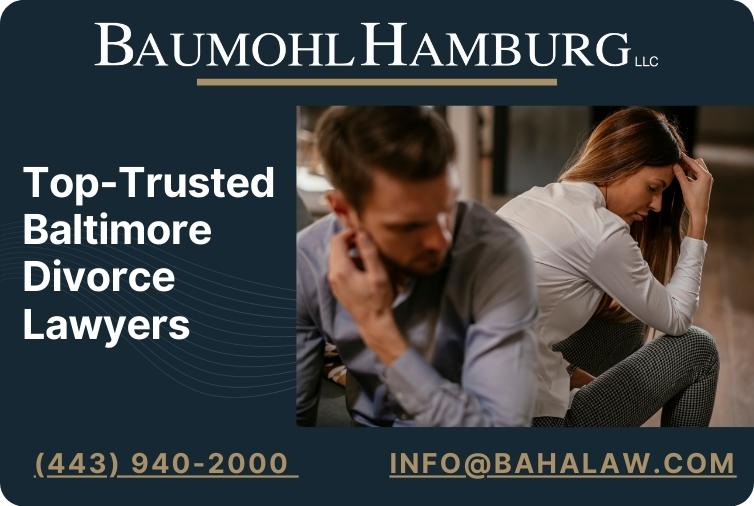 Meet Our Fearless Divorce Attorneys
Choosing Baumohl Hamburg means gaining access to top-rated divorce lawyers in Baltimore. Our diverse backgrounds and legal expertise ensure your needs are met and your rights protected throughout the legal process. You can count on us to be proactive and responsive every step of the way.
Read more about our team:
Client Reflections: Navigating Divorce with Our Team
Michael Hamburg is a great attorney and someone that you would definitely want on your team. He's very intelligent, experienced, knowledgeable, confident, honest, personable, punctual, a true professional, and is a warrior in the courtroom. His work ethic is impeccable and he goes above and beyond for his clients than what most attorneys would go. Mike Hamburg helped me with my divorce case and also my child custody cases. He helped me with numerous other cases as well and we were always victorious… Always! Mike Hamburg always treated my cases as if they were his top priority and explained things in a clear and concise manner. Jodie Sykes Hamburg is a great asset to have on your team as well. They work awesomely together. I am grateful and thankful to have worked with Mike and Jodie and would not ever think of going into a court battle without them.
What to Know About High-Net Divorce in Baltimore
High net-worth divorces bring up peculiar challenges and complexities, requiring a level of expertise beyond conventional divorce cases. Our divorce lawyers have vast expertise in representing clients with considerable assets and complex financial portfolios. At Baumohl Hamburg Law Firm, we have a remarkable track record in successfully handling high-stakes divorces, which are typically worth over $1 million.
High net worth divorces intricacies involve the following factors which need to be taken into consideration:
Assets and property evaluation
Property division
Alimony
Tax implications
Discretion
We are highly knowledgeable in intricacies of high-net-worth divorces within the local Baltimore setting. We faithfully protect our client's interests by collaborating with top-tier financial experts, accountants, and other specialists to secure accurate assessment and fair asset distribution.
Our legal strategy integrates meticulous diligence with thorough knowledge of Maryland divorce laws. We are skillful at finding hidden assets, property division tax implications evaluation, and negotiation of spousal and child support agreements. Our fierce advocacy and first-class negotiation skills allow us to establish outcomes beneficial to our client's financial health.
If you are facing a high net worth divorce in Baltimore, confide your case to us, a respectable and trusted advocate for your rights and assets.
What are the Stages of Seeking a Divorce in Baltimore?
The process of seeking a divorce in involves the following general guidelines:
1. Seeking Legal Counsel
You should begin by consulting a knowledgeable divorce lawyer in your jurisdiction. The attorney will provide protection and guidance throughout the divorce process and help you understand the complexities.
2. Filing for Divorce
Your lawyer will file your divorce documents with the court in the county where either of the spouses are. The documents will contain all the necessities, such as the ground for the divorce, alimony, child custody, and marital property distribution.
3. Service of Process
Service of process is a procedure in which the other party is given copies of documents filed by mail or court process server, depending on the county you filed for divorce.
4. Complaint Response
After the other party has obtained the documents, there will be enough notice to respond either by signing the papers served or by a counterclaim defining their terms for child custody, alimony, or property division. In Maryland, you have between 30 and 90 days to respond, depending on your place of residence.
5. Settlement Negotiation
In case both spouses have a mutual agreement on divorce terms, a settlement negotiation will be initiated, with attorney assistance. The settlement details include matters like child custody, spouse support, alimony, and property division.
6. Court Hearings Attendance
The case proceeds to court when spouses are not able to reach a mutual agreement. At the hearing, both parties will have a chance to present their sides, along with witness statements and presenting evidence. Based on all elements, the judge will make a decision.
7. Finalizing divorce
The divorce is finalized only when the final judgment is signed by the judge. The judgement states divorce conditions for child support, child custody, visitation rights, property division, etc.
Frequently Asked Questions
Is there a residency requirement for filing for divorce in Baltimore, Maryland?
Yes, there is a residency requirement that needs to be fulfilled before filing for divorce in Baltimore. To file for divorce in Baltimore, at least one spouse must be a resident of Maryland for at least six months prior to filing of a petition for divorce.
What are divorce types in Maryland?
There are two distinct types of divorce in the state of Maryland: Absolute divorce and Limited divorce. Absolute divorce is legally ending your marriage, and once completed, you may remarry. Limited divorce does not end your marriage legally. You can file for limited divorce when you need the court's help in tackling issues such as child custody or finances. Subsequently, you will be eligible for an absolute divorce.
What are the legal grounds for divorce in Baltimore County?
Legal grounds for limited divorce are as follows: separation, cruelty and excessively vicious conduct, and desertion. Furthermore, additional grounds for absolute divorce are mutual consent, adultery, insanity, and imprisonment for a crime.
Is Maryland considered a no-fault divorce state?
Yes, Maryland is a no-fault divorce state, meaning spouses can file for divorce without proving fault.
How long will it take to complete a divorce case in Baltimore?
The length of divorce proceedings depends on numerous factors like case complexity and whether the pace of reaching an agreement acceptable by both parties. Typically, it takes from several months to over a year to finalize.
How do you separate property in a divorce case in Baltimore County?
In Maryland, all marital assets and property are subject to division. Under Maryland's Marital Property Act, assets are divided fairly but not automatically equally. Elements such as individual contributions, marriage duration, and the financial situation are taken into consideration by the court when deciding on property distribution.
Do I need a divorce lawyer?
Legally, you are not obligated to be represented by an attorney in court, however, having legal counsel is strongly advised. A competent lawyer will act in your best interest, protecting your rights and navigating the entanglements of Maryland's divorce laws to secure your best possible result.
What Is the Purpose of Mediation?
The purpose of mediation is for spouses to work together to find a solution acceptable to both parties. Mediation is a process where they work with a third party to reach a mutual agreement. The mediator is a neutral party that leads negotiations and helps spouses express their views and reach an adequate settlement.
If you are facing a family law issue, turn to Baumohl Hamburg for reliable and passionate legal representation. Our team of highly qualified family law attorneys will advocate for your rights and work relentlessly to achieve the best possible outcome for your case. We are ready to provide the rock-solid support you need during challenging times. We serve clients across Maryland, from Baltimore City, Baltimore County, Anne Arundel County to Howard County.