Baumohl Hamburg is a reputable Baltimore law firm, specializing in providing exceptional family law services. With a combined experience of 75 years, our team possesses deep knowledge and expertise that sets us apart in the field of family law. We deliver effective legal counsel and personalized attention to individuals and families dealing with legal matters such as divorce, child custody disputes, adoption, domestic violence, and domestic agreements.
As a boutique firm, we take pride in providing you with compassionate advocacy and absolute dedication. Every family law case is unique, and we take the time to listen and design our strategies according to your specific needs. We nurture strong relationships built on trust, ensuring our clients are supported and motivated during the entire legal process.
Choosing Baltimore family law attorneys from Baumohl Hamburg LLC provides you with confidence in our competency to lead you across the most challenging situations. Our extraordinary legal work and commitment to reaching appropriate outcomes have earned us a reputation as a trusted and respectable firm in Baltimore. Contact us at (443) 940-2000 to schedule a consultation and discover how our proficiency and personalized approach can positively impact your family law case.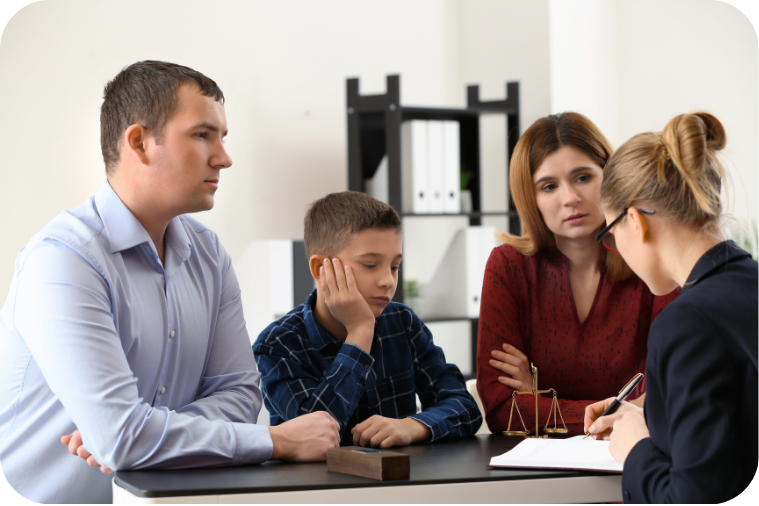 Client-Oriented Comprehensive Family Law Services
Baumohl Hamburg offers a wide array of family law legal services addressing the diverse needs of our clients. By offering these services, we aim to provide legal support during challenging family law situations by minimizing stress, protecting our clients' rights, and helping them move ahead optimistically.
Here are the key services we provide:
Divorce and Legal Separation
Our accomplished lawyers lead clients through the divorce process, making sure their rights and interests are protected. We strive to promote good-natured resolutions by utilizing our negotiation and meditation skills. In addition, we are also ready to produce a more aggressive representation in court when needed. Our main goal is to reduce conflicts, prioritize the well-being of children, and protect your assets.
Child Custody and Visitation Rights
We fully understand the sensitive nature of child custody disputes, hence we compassionately focus on obtaining the best possible arrangements for the children and our clients. Our family lawyers diligently work on drafting parenting plans promoting child's welfare and maintaining strong and healthy parent-child bonds. Through careful and meticulous consultations, negotiation, and advocacy, we strive to attain fair custody and visitation plans that meet our client's needs.
Alimony, Child and Spousal Support
With a diligent approach, we assist clients in establishing adequate child and spousal support arrangements. We collect all the required financial information and advocate for fair support orders. We aim to provide equitable support to our clients, considering their children's and ex-spouses' needs.
Adoption
We support individuals and families through the complex process of adoption, minimizing delays and potential complications and facilitating a smooth and efficient adoption experience. Our attorneys assist in completing the required paperwork and represent clients in court. Furthermore, we recognize the emotional sensitivity and the importance of adoption proceedings for both the children and the prospective parents. We do our best to ease worries and uncertainties which often go along with the adoption process. Our mission is to make the adoption process as easy as possible, allowing our clients to welcome new family members with optimism and joy.
Property Division
Dividing marital properties, assets and debts require meticulous analysis and negotiation skills to secure fair resolutions for the clients. We employ in-depth analysis and diligent strategies to encourage fair division of marital property while taking into consideration elements such as contributions during the marriage, financial prospects and needs.
Domestic Agreements
We also provide thorough legal assistance in drafting and reviewing domestic agreements: prenuptial agreements, separation agreement, and postnuptial agreement. Our aim is to protect clients' rights, promote transparency in personal and financial matters while providing a stress-free environment for our clients.
Domestic Violence
If you are a domestic violence or abuse victim or have been accused of committing this offence, you can contact us for legal assistance. We can help you navigate the legal system and reclaim control over your life by offering aid in adjusting child custody agreements, filing charges, and seeking protective orders in court.
Appeals
Baumohl Hamburg's family lawyers skillfully handle appellate law, giving clients a chance to challenge court decisions and pursue a fair resolution. Take advantage of our first-class legal help when looking to appeal to a court decision or defend a favorable ruling.
Baltimore Family Law Attorney Fees
Family law or legal counsel fees are based on the specific type of case and the lawyer's expertise. Baumohl Hamburg lawyers have an hourly rate, which varies and is determined by case complexity, attorney's reputation, and other relevant factors. The rates range based on competency, from paralegals to senior family law attorneys.
It is advisable to discuss fees and payment options prior to engaging in legal counseling, to make sure you fully comprehend the scope of services and the fee associated with them. You should review the fees in your initial consultation. Contact us for more information.
Advantages of Partnering with Our Baltimore Family Law Attorneys
Our family lawyers are committed to providing exceptional legal representation and attentive support for clients. Each team member brings a unique set of skills to the table, ensuring you receive appropriate counseling tailored to your specific situation. With our personalized methods and a track record of success, your family's future is in capable hands. We put our hearts and souls into each case we handle.
75+ years of combined experience
Outstanding results
Family law boutique firm
Empathetic and caring lawyers
100% client-oriented
Reputable position in Baltimore community
Effective communicators and negotiators
Honesty and transparency
Client-oriented personalized attention
Maryland State Bar Association Members
American Bar Association Members
Baltimore County Bar Association Members
Baltimore Collaborative Divorce Professionals Members
Meet Our Leading Family Law Experts
Our expert lawyers are well-equipped to navigate the intricacies of family law cases, ensuring your rights are protected, and your best interests are always prioritized. Read more about our team:
With over 40 years of experience in family law, Harry is a recognized authority in the field. His deep knowledge and strategic approach have helped countless clients successfully resolve complex cases of divorces, custody disputes, and property division matters. Harry's dedication to achieving favorable resolutions while minimizing conflict makes him a trusted and respectable individual with high integrity.
Michael brings his passion for family law and his empathetic approach to every case he handles. With a strong background in negotiation, he is skilled at finding creative solutions that prioritize the well-being of families. Mike is a member of the Baltimore County Bar Association and regularly volunteers at CHANA to assist domestic violence victims.
With a keen attention to detail and a strategic mindset, Jodie is known for her ability to effectively advocate for client's rights in family law and personal injury cases. Her powerful advocacy skills and commitment to achieving excellent results make her an indispensable asset for clients facing legal challenges. Jodie is a certified mediator and has been with the company for more than 13 years.
Testimonials : Read Why We Are a Top-Trusted Family Lawyers
Baumohl/Hamburg is a top notch firm. I am a Family Law attorney who has worked with them as opposing counsel on more than one occasion. Both Harry and Mike are diligent, honest and thorough. I have had occasion to recommend friends and colleagues to them for representation and will continue to do so.
Harry and his staff made the unpleasant process of divorce proceedings as simple as possible. Harry provided great advice and broke things down in a fashion that was easy for me to understand. He accepted my input and helped me come to the best decisions possible. I don't recommend a divorce, but if that's the only option then I definitely recommend Baumohl Hamburg.
Frequently Asked Questions
What are the types of spousal support in Maryland?
There are two main types of spousal support in Maryland: temporary and indefinite. Temporary spousal support, also known as "pendente lite", is alimony during the wait for the divorce to be finalized. The other type of financial support is alimony after the divorce, which can be indefinite (permanent) or rehabilitative. Rehabilitative alimony in Maryland helps the spouse get the education or training needed to become financially stable.
Who is eligible to seek a protective order in Maryland?
To be able to seek a protective order in Maryland, you must have a certain status or type of relationship with the other person, such as marriage, divorce, separation, adoption, blood relatives, cohabitants, having a child together, sexual relationship involvement with each other in the past year, vulnerable adult status, rape, or sexual assault victim, etc.
What to do if I do not qualify for a protective order?
There is another way a court can protect you – peace order. Peace orders are issued for any relationships which do not qualify for protective order, such as strangers, neighbors, non-sexual dating relationships, etc. You can find more information here.
What is the difference between separate property and marital property?
Separate property is any property acquired before or after the marriage or received as a gift. Marital property, on the other hand, is any assets and properties acquired during the marriage using joint funds.
What are the different types of child custody?
Child custody refers to care and maintenance of a child and the rights and responsibilities of a parent. There are two types of custody:
Legal custody involves making important decisions, such as education, health, welfare, religious activities, travel and similar.
Physical custody refers to where the child lives most of the time, as well as how much time is spent with the other parent.
Legal and physical custody can be joint (shared) or sole (one parent only). Consider speaking with our lawyers if you have questions about your legal rights.
How does the court determine the amount of child support?
When deciding on the exact amount of child support, the court takes into consideration several factors such as a child's specific financial needs, parents' contributions, health insurance expenses, work-related childcare expenses, etc. To get an estimate you can use The Child Support Administration (CSA) online calculator for child support.
Baumohl Hamburg is a boutique legal practice with an impeccable reputation built over years of dedicated service. Our commitment to empathy and highly personalized client care set us apart. We combine our deep knowledge of various areas of family law with the utmost attention and empathy, creating an environment where clients feel understood and well-guided. Seeking legal assistance from Baumohl Hamburg is a wise decision, as it guarantees access to reputable professionals and exceptional legal representation. Whether you are having issues with child custody and support, negotiating domestic agreements, domestic violence, or divorce, our extremely knowledgeable family law attorneys are here to help. Contact us at (443) 940-2000 and let us help you resolve your family issues.